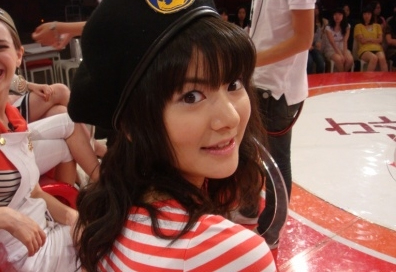 According to
THIS ARTICLE
, Korean "netizens" are angry at Rie Akiba over a comment she made about "Dokdo." Rie is the Japanese member of a panel of foreign women that are featured on a weekly Korean talk show. The women are asked their opinions on a variety of topics generally concerning Korea. The women respond in Korean with varying degrees of fluency.
Rie said that when she is asked her opinion on "Dokdo," she usually dodges the question by turning it around and asking the questioner his or her opinion, instead. She also asks why he or she has that opinion and where the questioner got the opinion.
The best answer Rie could have given would have been, "I don't want to talk about Dokdo," but the second best answer was probably the one she gave because if a foreigner gives an opinion different from the Korean opinion on Dokdo, the foreigner is generally crucified in Korea. If Rie had not said anything more about Dokdo, I think she would have been all right, but she added the following:
I have actually done some research on Dokdo. Korea first found it, but I cannot say for sure which country it belongs to. Korean people first found it, but the first people to name it were the Japanese.
First, there is no evidence to suggest that Koreans were the first to find "Dokdo." All the evidence shows that the Japanese were the first to both find and name the island, which was first named "Matsushima" and later "Takeshima." Second, there are maps and documents proving that the Japanese were visiting "Dokdo" (Takeshima) as far back as the 1600s, but Korea has no evidence of Koreans visiting the island before the Japanese started taking them there on Japanese fishing boats in the early 1900s. Also, the Korean name for the island, "Dokdo," does not appear before the early 1900s.
If Rie had really researched the isssue, then I cannot understand how she could come to the conclusion that Koreans were the first to find Dokdo. Did she use Korean or Japanese sources? Is the history really that poorly explained in Japan?

I wonder if Rie really believes that "Dokdo" (Takeshima) was first found by Korea or if she only said that in a failed attempt to be diplomatic and avoid crucifixion?
Another member of the talk show panel, Canadian Dominique Noel, defends Rie Akiba against Korean netizens on her Web site. See
HERE
.