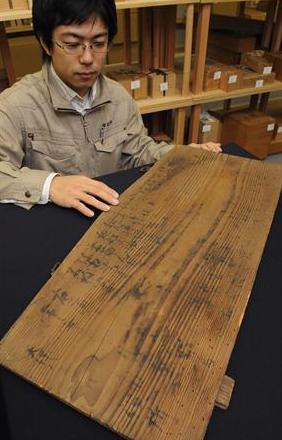 According to
THIS CHOSUN ILBO ARTICLE
, a 1837 Japanese plaque warning Japanese not to travel to "Takeshima," which the article claims was "Dokdo," is being auctioned off. I think the following is a Japanese article talking about it
"鬱陵島渡航禁止の触書がオークションに 韓国側の落札懸念"
The Korean article says that the sign says, "Dokdo is Korean Land," but I am suspicious, so could someone give me the Japanese and a translation of what the sign really says? If possible, could I have the full text and translation?
Also, there seems to be fears that the sign might go to Korea if a Korean places the highest bid.
UPDATE
THIS ARTICLE
from the Chosun Ilbo describes the sign as follows:
"Board Showing Dokdo as Korean Territory Found in Japan"

A wooden board which labels the Dokdo islets as Korean territory has been found in Japan.

According to the Sankei Shimbun, it was made in the 19th century and is due to be sold at auction next month. The plate says that the Dokdo islets belong to Chosun, the name of Korea at the time, and that sailing to the area is prohibited.

The Japanese media insist the islets mentioned on the board are in fact Ulleung Island, not Dokdo.

Arirang News
The above article is yet another very good example of how the Korean media is either ignorant of or is intentionally distorting the history. The 1837 Japanese sign referred to an island called "Takeshima" (竹島), not "Dokdo," and in 1837 Takeshima was the Japanese name for the Korean island of Ulleungdo. The name Takeshima was not used to refer to Liancourt Rocks (Dokdo) until 1905, when the rocks were incorporated into Japanese territory.
The Hamada Museum in Shimane Prefecture has a similar sign, which says the following:
"We thoroughly investigated the case of a man named Haji Uemon and others who sailed to Takeshima, to which it is forbidden to sail, and executed them for their crimes. Not only is it forbidden to sail aboard, but it also is forbidden to meet foreign ships."
Notice that nothing was said about Liancourt Rocks (Dokdo), which the Japanese called Matsushima (松島) at the time. I suspect that the board being talked about in the article says basically the same thing, which would mean the claim in the Korean article is just another ridiculous Dokdo claim.
Here is another article in Korea's
KBS WORLD
.